For the residential sector we offer services such as:
House Clearence
Rubbish Removal
Domestic Appliance Disposal & Recycling Service
Scrap / Unwanted Vehicle Removal
We understand
It is understood that there are many reasons why a house clearance needs to take place; moving house, down sizing, redecorating, death in the family, and likewise with rubbish accumulation, it can happen at any property for a number of reasons. We will always try to be sympathetic to your needs. Our job is not to judge. Our main goal is to get the job completed.

On viewing the property and the job at hand, we can offer you a verbal or a written quote and if acceptable we would arrange for a date and time for the job to commence.
Our quotes take into consideration; size and amount of items for disposal, labour, distance and vehicle cost, so there are no hidden costs unless you want extra jobs done.
House Clearances
This can be done one of three ways:
1. The contents of the property, having no value and therefore requiring dissemination between Local Recycling Centers/Sites after sorting. The charge that is made for this service includes: Tipping fees and Labour fees.
2. When the contents of the property are a mixed lot including items of no value and items that have a small value, we may offer you a reduced offset by the purchase value of the items that are resalable.
3. When the contents of the property are of good resalable value we will normally offer you an amount for the contents of the property and not charge you for the clearance.
It is possible that we could offset some this cost against any items we feel we could salvage, (washing machine, tumble dryer, cooker, etc.) potentially making our quote cheaper and therefore more attractive to your pocket.
Rubbish Removal
Gardens Cleared, Houshold Appliance Disposal and Recycling, Disposal and Recycling of Waste Metal.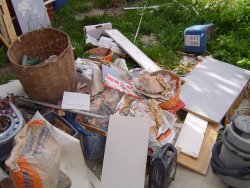 Domestic Appliance Disposal & Recycling Service
Domestic appliances break down from time to time and when they do quite often they are beyond economical repair, this is where we come in; our Domestic Appliance Disposal & Recycling Service was created for this purpose.
How it works
Step 1. We will send a van to collect your domestic appliance from your home and take it to one of our workshops.
Step 2. Once at the workshop, the appliance will be tested to find both the fault and the cause of the fault.
Step 3. All faulty parts are removed from the appliance and the machine is then marked as an appliance to be repaired and resold or stripped for its remaining recyclable parts.
Step 4. The appliance is then put into storage to await repair or dismantling.
Scrap / Unwanted Vehicle Removal
Have you got an unwanted car, van, or wagon that is costing you vehicle space and road tax yet it doesn't work or it never gets used? We could remove it for you. Relax, the vehicle would get treated with respect to current law regarding registrations, road tax and therefore you can forget it.
For this service; The V5 documents must be available